"Drive an hour directly south of Tucson, and you come to the small town of Nogales, Arizona, at which there is a wall eighteen feet high. On the other side of the wall is the town of Nogales, Sonora. The wall goes on, with gaps, for more than six hundred miles, in California, Arizona, New Mexico, and Texas. Most of it is in Arizona. Like a river, it takes different forms along its course. More closely guarded here, lower there, deadlier elsewhere."
Teju Cole's Twitter essay – A Piece of the Wall – is simply extraordinary, both to highlight U.S. immigration policy and the versatility of Twitter as a medium. Without exaggeration, this is the most unique use of Twitter I've seen to date. 
The United States takes a hard stance on irregular migration. Cole's main character – the Fence – dominates through word and picture: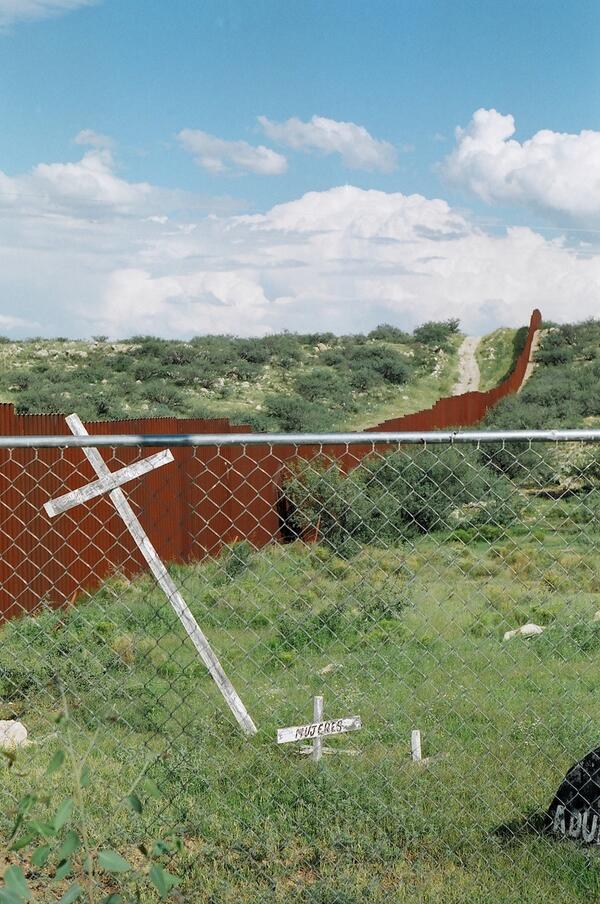 The Fence consumers his recollection. A story transformed by a character all too real, piercing the landscape. I got lost on Google streetview for an hour looking at images.
While Cole's story telling ability is renown, this harrowing non-fiction tale of the border is superb. The harsh words of border protection officers, the chilling descriptions of a local morgue, bystanders touched by externalities. The jingle, jingle of chained prisoners. The sense of normalcy wrapping each scene together. Despite over two decades of people moving from Mexico to the United States, border control policy continues to escalate, tougher than ever. A legislative agenda designed to mitigate the worst outcomes sits idol in the House of Representatives, a failure of government.
I find it hard not to picture death in the desert and wonder how things came to this point. Equally, this is a sober reminder something similar is undertaken in and around Australia on behalf of us. The semantics of irregular and asylum tend to fall by the wayside when protracted migration flows result in such human misery. 200 here, 1000 there.
Like in Australia, progressive governments can confuse their conservative counterparts. Cole recounts how President Obama has deported more people than any other president.
Yet the impossible nature of this policy is apparent. Politicians driven by populism control an agenda, willing to push the boundaries ever further unafraid of electoral consequence. Those on the ground, people who give their lives for those in need, mourn an economic agenda as the cause of such misery ("These neo-liberal trade agreements that are creating poverty have to stop. What we want is comprehensive reform."). It goes unsaid Mexican net migration has slowed to a trickle as economic convergence with the U.S. occurs. The answer is not simple nor fixable at this point of time. Hard work, slowly reiterating previous abnormalities will see change in the future but there is no guarantee of improvement.
"What you think is true of the country in which you have arrived is often true only of where in it you are."
Australia to me is technocratic Canberra, suburban Melbourne and the tourist hot spots across a hot continent. It is where I am and where I have been. Manus and Nauru are foreign in more than one sense, not to mention Curtin and Baxter of times gone by. This is the reason why moral appeals on asylum policy vanish into an electoral vacuum. This doesn't make it right or wrong but explains more than most are willing to admit.
Teju Cole's masterpiece is perhaps the start of a new methodology, a long-form also able to capture the human element of government policy 140 characters at a time: